IF IT'S WOOD, WE CAN DO IT! GIVE US A CALL TODAY
CALL (504) 388-1430
We can help with all of your questions! We respond to all of our customers with a prompt, courteous, professional attitude.
About Us
WELCOME TO RICK'S CARPENTRY LLC
Since 1982, Rick's Carpentry is providing professional services for residential home owners. In addition we are a fully insured contractor. A family-owned business based in Belle Chasse, Louisiana. However, our serving areas are in and around Belle Chasse, Gretna, Harvey, Marrero, Westwego, Bridge City, Elmwood, Harahan, River Ridge, New Orleans, and Algiers. To summarize we offer a full line of carpentry services. In comparison, our rates are honest and reasonable. Above all, here you get free consultations and guaranteed workmanship. "If it's wood, we can do it!"
Read More
Our mission is to make our customers happy. We are not a big company so we don't have a lot of overhead and that helps keep the prices down. Rick's Carpentry LLC has been making clients happy since 1982. 
Our history, wow that's a good question looking back at the beginning of 1982, Rick's Carpentry was established. Years of working for different contractors and companies and learning about carpentry. I knew I loved working with wood so it was a natural for me. I decided that the knowledge I knew and the dreams that I had of owning my own business. 
Rick's Carpentry, LLC is a locally owned deck and fence company that understands the unique nature of New Orleans soil subsidence, and will take the necessary steps to insure that your Fences, Decks, or Patio covers will be built to last. Most important we work hard to maintain affordable pricing as well.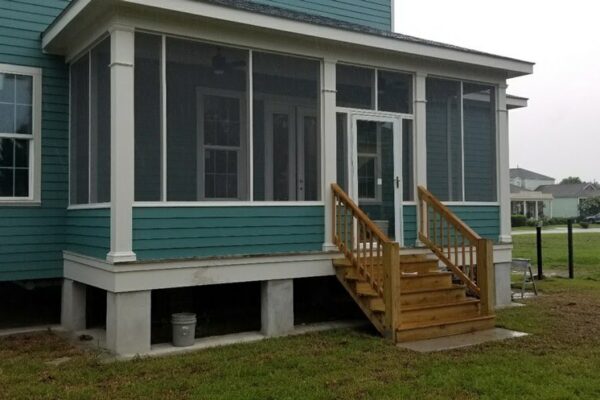 Rick's Carpentry,LLC offers a full line of carpentry service at affordable prices. All our work is guaranteed. Free consultations so no need to wait. So, just give us a call and schedule a time to discuss your project and get your free estimate.
AFFORDABLE PRICE
We do more than a carpentry service- we check for glitches that need attention to keep you safe and save your money.
QUALITY SERVICES
If you are in need of quality carpentry service, we can assure best quality work. Whenever you call, we service you.
PROFESSIONAL CARPENTRY
Rick's Carpentry, LLC has been providing professional services to homeowners. If its wood, we can do it.
Testimonials
WHAT OUR CLIENTS SAY?
Firstly Rick and his team were awesome. Secondly they were prompt.  Thirdly completed the job on time as promised and in conclusion worked our job in a couple of days sooner.
Definitely will use again.
I needed a laundry room door replaced and Rick came out to my home expeditiously to assess the situation and to give me a quote. The price was very reasonable and in fact was the same as his estimate; no surprises there. Rick and his associate, Chris, came out early to my home and got to work immediately. The old door and frame were removed without issue and the new door and frame professionally installed. Both Rick and Chris were very collaborative and kept me informed as to the progress. The door looks fantastic and will no doubt increase the overall value of the home. As a bonus, the old door and all the old trim were taken away and the laundry room cleaned up better than it was when they first arrived. Honest, professional, collaborative: it all adds up to great value. I appreciate having a contractor who does quality work on time and in a most friendly, collaborative manner. I would recommend Rick's Carpentry LLC to anyone who needs carpentry work done.
Professional experience from start to finish. Showed up exactly on time and got to work replacing my front door. Work quality was excellent as well, and made sure I saw everything working properly before departing. Will use again for any future jobs.
We are grateful for such reliable, exceptional work. Thank you for the wonderful results.
Not welling to help. Poor service.
Melvin was highly professional. Our privacy fence came out amazing and was finished very fast.
Rick and Chris were a pleasure to work with and I would absolutely hire them again for any carpentry needs at my home. Rick showed up on time for an initial walkthrough and promptly delivered a reasonable, itemized estimate. He and his workers showed up a week later (as scheduled and on time each day) and did a great job replacing a privacy fence and gate, deck, and adjusting some of our home's doors. Overall a great experience and would highly recommend.
Definitely DID NOT live up to these 5 star reviews. The most careless piece of workmanship we have ever seen. Carpenter was more interested in speed than quality. Definitely not detail oriented.The finished product left use with more damage than we started with.
Rick is professional, responsive and stands behind his work. He installed doors for me at 2 different properties and each time he showed up when he said he would; did a great job and left the work site clean. His prices are fair and his work is great. I highly recommend him
We had 2 older wooden decks that needed replacement. Rick and his people came in and very quickly built 2 new Trex porches that are fantastic. I should have paid them a bonus.